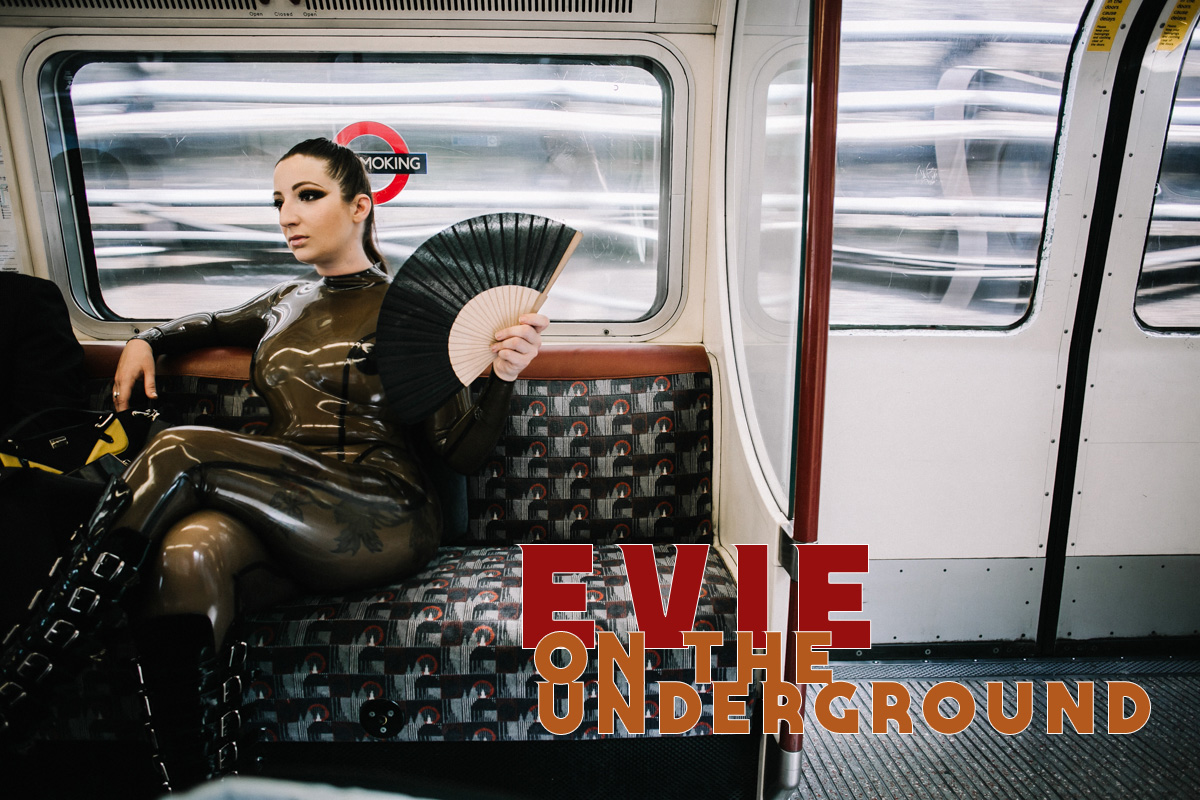 "Let's do a latex photoshoot on the London Underground," she said. "It will be FUN," she said…
"and I shall wear my Libidex catsuit in smoky grey TRANSPARENT latex!"
And before I truly understood what I had actually agreed to do, I was following Mistress Evilyne's latex clad body, down the suburban streets of West London to the closest Underground station.
"Ummm, don't you want to take a coat?", I called after her : "uhhh, no, it'll just be more for you to carry", she kindly replied…
Latex in the public eye
It's a fact, the fetish connotations are strong, however latex has its own place in mainstream fashion and is regularly seen on the catwalks, usually incorporated as a mere interesting "texture" by The World's Greatest Designers.
Soon to follow in high street stores. Top Shop even had its own range at one point. It's confusing for fetishists, and that's just not fair.
But if anything weird is going on in the Underground, of course Londoners are way too polite to acknowledge, consequently, Mistress Evilyne was free to pose her way through Baker St and the Circle line all the way to Convent Garden…
What is it about the Underground anyway? When someone is being controversial or confrontational, what makes us look the other way? In some ways the English are so repressed and stifled in showing emotion… in other ways so creative, reactive and free…
Out on the streets of London people were (ok mostly fellas were) much more open and curious and wanted to understand what Mistress Evilyne was wearing, and why she chose to wear it. How would those same people have behaved if they'd encountered the same, but Underground?
Anyway, Mistress was only too happy to chat and respond to all the curious questions; business cards in hand.
Coffee and ice-cream break accomplished we head off to our last latex photoshoot location in the depths of Covent Garden's Underground station. I was feeling quite inspired by the wrought iron stairs and grungy walls, however when Mistress moved into her first fancy pose…. rrrrrrrrrip! (It was the sound of her catsuit tearing). Her transparent latex catsuit basically tore without any reason. Her bottom was hanging out – no coat to cover up – what were we to do???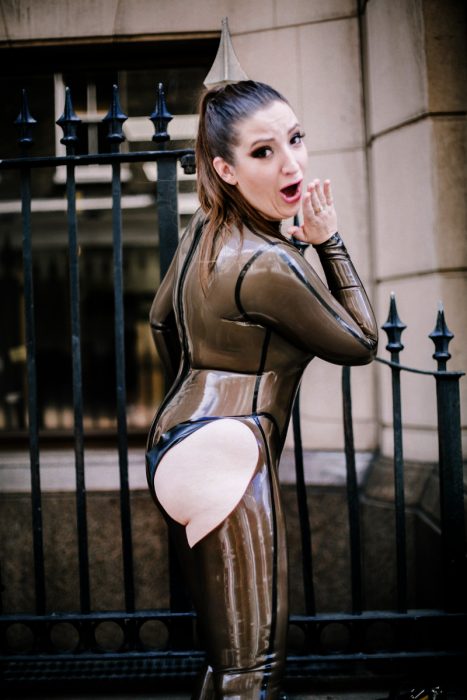 Libidex London
Luckily, the Libidex London shop was just around the corner! Surely they might take some responsibility for the situation! But no, there was nothing they could do. Apparently the catsuit was "…a size too small and next time you should definitely buy a bigger one."
"Ohhhh you came out without a coat?! Just get a Taxi home", they suggested "great, thanks for that helpful advice"
And that's where this story ends, with us traveling home in comfort with the good company of our Uber driver.
Libidex: Honestly it's not the first story I have heard of their fragile latex breakages: suits splitting upon first wear, holes poked through toes. Special features include a rapid degradation of the shine resulting in lack lustre patches on the butt and knees…
Meh, they might just be the fetish equivalent of fast fashion, contributing to the world's landfill.
Support small independent business! If you need some names of groovy latex designers here are some of my favourites:
Lady Lucie Latex
Kaori's Latex Dreams
Rose Noir
Ectomorph who I am very fond of for having designed my favourite latex breeches!
Dark Virtue Designs nominated by Mistress Evilyne who says "Hands down the best cut latex I have ever owned and a one woman business"
Heavier Stuff
Fantastic Rubber
Bondinage
Latex Nemesis
Slinky Skin

I wish I could still say both Lacing Lillith *swoons* and Am Statik however, they seem to be offline or out of service.

The gorgeous star of the show can be found at www.Mistress-Evilyne.com
More of my photography can be found in my Photography Portfolio