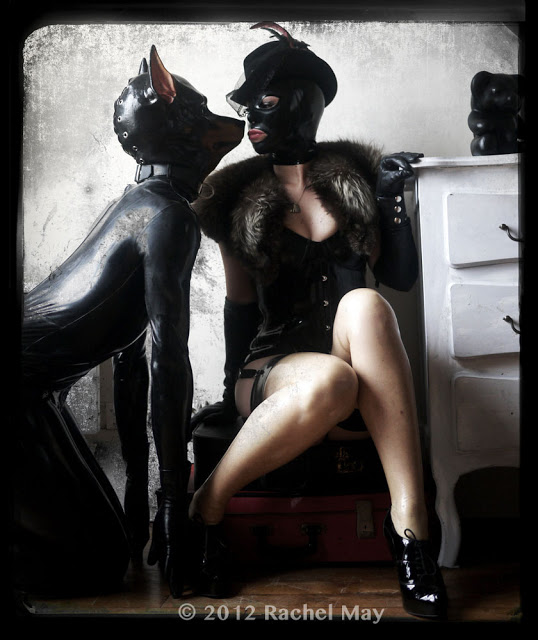 An erotic art exhibit featuring the work of ten artists – Michael Manning, Jon Macy, Dorian Katz, Midori, Brooke Kent, Rachel May, Rick Castro, Victor Lightworship, Shun Yamaguchi, and Idella Spann – exploring the theme of human pet play – specifically canine and equine – in a variety of mediums.
An opening reception will take place from 7:00 pm to 9:00 pm on Saturday, August 1st. There will be a $5 cover charge at the door and no host bar. Costumes and fetish wear, especially of the dog and pony variety, are welcome but not mandatory.This is an adults only event. No minors will be admitted.
Originating from the late-19th century, the term "dog & pony show" refers to the small travelling circuses whose main act would consist of performing dogs and ponies. Primarily used in the pejorative sense when referring to an over-staged over-hyped event, the phrase also acknowledges the enduring power which animals hold over the popular imagination.
Human beings' relationship with animals is long and complicated. In one hundred thousand years, we've gone from fearing and worshipping them to subjugating and domesticating them. They are our companions, our slaves, our art objects, and our food. Our modern day fascination with dogs and horses in particular transcends their practical value as hunters, defenders or means of transportation. We breed and train them, sublimating their sexuality to serve our aesthetic needs, fetishising those characteristics which we find most admirable in them – strength, speed, beauty, loyalty – and sometimes even seeking to embody and emulate those qualities.
If BDSM is a space in which people's fantasies can be explored in depth, the dynamic between owner and human pet can be viewed as one of the most extreme expressions of a dominant/submissive relationship. A situation in which a rational being is reduced to a fetishised animalistic state – helpless in a sense, but also protected and free to operate on a totally physical level without any inhibitions – can be a powerful and inspiring one.
The work of the artists of the Dog & Pony Show celebrates that ultimate servitude and provides a brief glimpse into a fetishistic world still populated by centaurs, satyrs, fox spirits, the Egyptian pantheon of animal-headed deities, and other mythological beings who blur the line between human and beast and continue to inspire our imagination and sensual longings.
Facebook event link: THE DOG & PONY SHOW