It's been some years since Madame Nicole of Upper Westchester County, New York contacted me to design her a professional dominatrix website. Since then we have worked together on increasing her visibility on Google through SEO. We have also increased her mailing list through a subscription form on her website, and use that to send regular newsletter to her clients. Email marketing works, if you don't have this set up on your website, you should!
When Madame Nicole asked me to work with her again on her new project, it was a non-brainer, of course I wanted to help her out and the new project was something quite unusual and unique too. Madame Nicole had ordered herself a "milking table" a massage table with something unique and extra to offer her clients. Can you imagine what that might be? This massage table has a hole cut out in the area where the man's crown jewels are situated, meaning she has access to them when she is ready to give them special attention.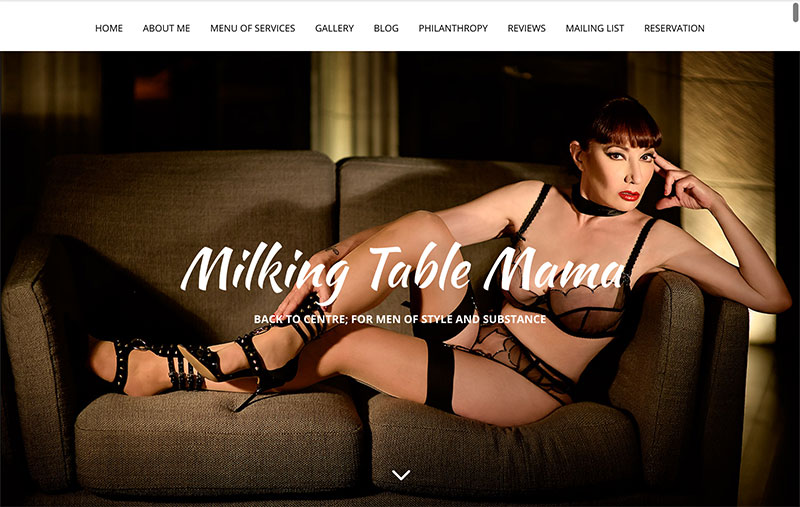 The website MilkingTableMama.com showcases Madame Nicole's sexy and sophisticated personal style and hints at her decadent and private surroundings. The wording is carefully crafted in a way that connects with her ideal client in order to tempt them into experiencing this unique and erotic service.
The SEO for Milking Table Mama will again be an ongoing effort. We have defined a series of blog posts that will aim at attracting traffic for several different key phrases surrounding the erotic massage concept. There will also be an ongoing 'backlinks' campaign. Both of which will increase Milking Table Mama's global brand and authoritative voice on the WWW.